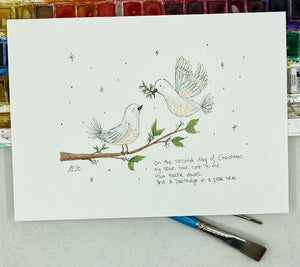 My new year's resolution for 2020 was to draw more…
And so began my #duckbluedailydrawings
For years I had drawn what people had commissioned me to do and as much as I loved that, what I missed was drawing for me! My daily drawings allow me to be free, to experiment, to look around and be inspired and most of all to be happy and creative everyday.
Each Daily Drawing is a piece of original art and a once off.
It is created on 300gsm Tintoretto Neve Card and it is 208mm x 152mm in size and can be easily framed in a 7x5" frame (Unless specified).
Paper - 300gsm Tintoretto Neve Card. 
Tintoretto is an uncoated woodfree elemental chlorine free paper and is completely biodegradable and recyclable and conforms with 94/62/CE standards.
Each Daily Drawing is sealed in a Cellophane Bag for protection and marked with an Original Artwork Sticker.
All Daily Drawings are illustrated and packaged in my studio in Maynooth,
Co. Kildare, Ireland.