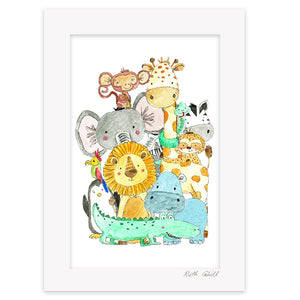 This print was created as a fundraiser to help #savedublinzoo when it was closed due to Covid19 restrictions. Dublin Zoo is such a special place and it was my way to give back (through my wonderful customers). Over €1100 was donated from this print. (receipts available on request)
All prints are taken from Daily Drawing Original Art and reproduced in 2 sizes for you to enjoy.
10x8" Mount - Image approx A5 Size
14x11" Mount - Image approx A4 Size
All mounts are signed and captioned and presented so they can be gifted either with or without a frame.
Paper - 300gsm Tintoretto Neve Card.
Tintoretto is an uncoated woodfree elemental chlorine free paper and is completely biodegradable and recyclable and conforms with 94/62/CE standards.
Each Print is sealed in a Cello Bag for protection.
All products are illustrated, printed and packaged in my studio in Maynooth, Co. Kildare, Ireland.