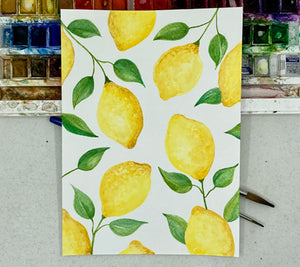 This Framed Lemon Piece is for sale in Maynooth Library. You can purchase this image via this link and arrange collection with me at the end of July. If you need it before that is no issue just let me know.
Each Daily Drawing is a piece of original art and a once off.
It is created on 300gsm Tintoretto Neve Card and it is 208mm x 152mm in size and can be easily framed in a 7x5" frame (Unless specified).
Paper - 300gsm Tintoretto Neve Card. 
Tintoretto is an uncoated woodfree elemental chlorine free paper and is completely biodegradable and recyclable and conforms with 94/62/CE standards.
Each Daily Drawing is sealed in a Cellophane Bag for protection and marked with an Original Artwork Sticker.
All Daily Drawings are illustrated and packaged in my studio in Maynooth,
Co. Kildare, Ireland.