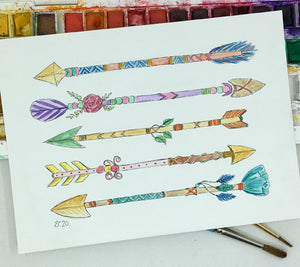 My new year's resolution for 2020 was to draw more…
Daily Drawings are a piece of original art and a once off.
They are created on 300gsm Tintoretto Neve Card and come beautifully packaged with a 10x8 inch Mount that is signed by Ruth the Artist and with caption/title. They are packaged in a cellophane bag with information about Duck Blue on the back. They really make a perfect gift and fit any 10x8 inch frame. They are also presented with an Original Art Sticker so the recipient knows they have been gifted with a piece of Original Art handmade in Ireland.
All Daily Drawings are illustrated and packaged in my studio in Maynooth,
Co. Kildare, Ireland.
If you would like the artwork unsigned and without mount please enter the code 'NO MOUNT' in the cart to get discounted price. But it is recommended that you get the work mounted and signed so that the work is mounted as the artist recommends.
#duckbluedailydrawing